President's Welcome 2022
Probably one of the more difficult things I do each year is to compose this letter in such a small space.
We had our first `in person meeting in September, 18 months after closing our doors for Covid. Zoom, remote accounting, online meetings and conferences, mail reception, paying bills and grants, security, and more challenged our Board, and especially our Staff. Nina, Catherine, Lisa, Lucero, and Yvette did a fabulous job keeping the office flowing and the grant making process working for us all.
It has been over 60 Years since Mrs. Doheny formed this Foundation. She asked the Board to help the Poor and Underserved with Love and Values based responses. As we know, Poverty leads to evictions, homelessness, and poor educational alternatives. This past year we gifted more than 80% of our grant dollars to organizations serving individuals and families who struggle economically. $3.5 million went to Inner City and South L.A. Catholic schools, their students, and families. We also supported Shelters, Outreach Centers, and Food Banks. And this year we helped the Vincentian Fathers and the Daughters of Charity with funding for fifty-four units that will take 108 people off the street.
This past year we gifted $9.4 Million to our grantees. It is the most we have ever done. You are probably on our website if you are reading this letter. Navigate to Grant Awards. We believe these all are very special services and the people that give of themselves to these organizations are very special too. We, the Board, are grateful to be a part of Mrs. Doheny's vision.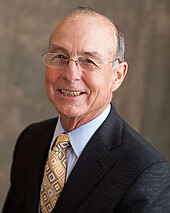 Thank You,
Robert A. Smith III