Carrie Estelle Doheny formed the Foundation in 1949 with the intention of furthering the charitable causes she cared about most for generations to come. Mrs. Doheny was a resident of Central Los Angeles for over forty years and her heart lay with the people of the city who were suffering, as well as those who were working towards a brighter future.
Mrs. Doheny, a devout Roman Catholic, shared her fortune generously and lived a life of Christian service, ministering directly to the unhoused and sick, and weaving clothes for those in need. With the help of her friend and advisor, Fr. William G. Ward, C.M., Mrs. Doheny laid out a framework for how the Foundation would run and the good work and projects it would support.
Major Projects during Carrie Estelle Doheny's Lifetime
St. Vincent's Church – est. 1925
In the early 1920s, Mrs. Doheny and her husband, oil magnate Edward Doheny, commissioned and funded the construction of St. Vincent de Paul Church in what is now the West Adams section of Los Angeles. Characteristic of the Dohenys, they were involved in all stages of design of the Spanish Colonial Churrigueresque style-church, from selecting the architect to personally choosing many of the decorative elements.
The church was designed by architect Albert C. Martin, Sr. and built on land adjacent to the Edward Doheny Mansion and Stimson House. The first Mass was celebrated April 5, 1925. Soon after, Pope Pius XI conferred upon the couple the titles of Knight and Lady of the Equestrian Order of the Holy Sepulchre.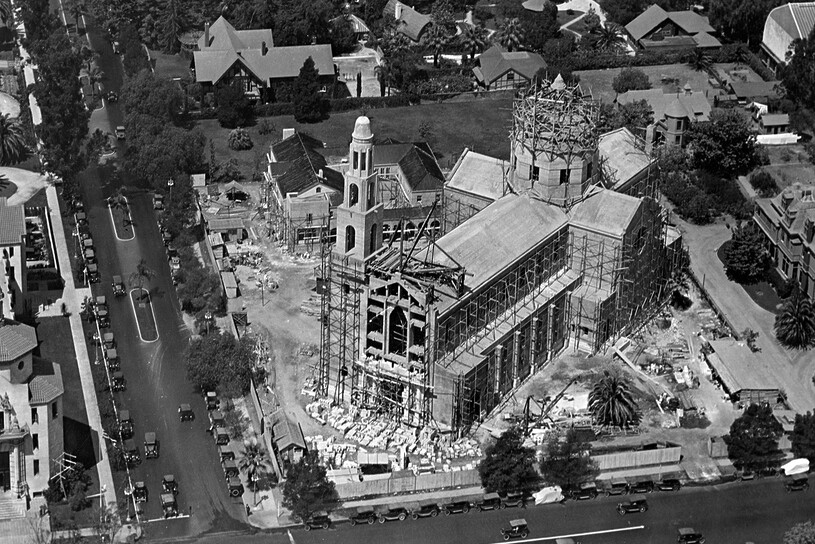 ---
The Doheny Eye Institute – est. 1947
On August 2, 1944, her 69th birthday, Carrie Estelle suffered a hemorrhage of the left eye while kneeling for Mass. Soon after, her right eye began to show signs of glaucoma. She began to study glaucoma and discovered it to be a widespread affliction with no known cure. She also learned that there was no eye bank or research facility for eyes in Los Angeles.
In 1947 she founded the Estelle Doheny Eye Foundation with the purpose of supporting "the conservation, improvement, and restoration" of eyesight. Its staff of three worked in two small rooms at St. Vincent Hospital. Under her visionary leadership, the Foundation included a pathology laboratory where tissues could be studied to identify eye disease, an eye bank – one of the nation's first, and equipment for eye photography. Today, the Institute is an independent, nonprofit organization affiliated with the University of California, Los Angeles and has emerged as a world leader in basic and clinical vision research and advanced patient care. The Institute stands among the top 2 recipients of National Institute of Health medical research grants, which funds 80% of all vision research in America. The Institute's research programs continually result in new diagnostic and treatment procedures and are respected internationally for the quality of research being conducted.
To learn more, visit the Doheny Eye Institute ›